I'm startng to realize the weirdness of my titles for this series. I can see how an outsider looking in would be a little…put off. What's new?
Anyways, before we proceed with the typical routine, a miniature rant about shounen. I love the shounen genre much more than I probably should for my demographic. The thought of blood-pounding soundtrack mixed with ear-shattering screaming really boils the blood, y'know? Anime like Naruto or Dragonball embody the blood-boiling action and joy I've loved. Hell, I've even re-watched Naruto and we all know how long and tedious that thing is. The same could be said about shounen movies like Promare or shorter anime series like Fire Force. They may be linear and predictable but damn, are they fun!
Sadly, it's been too long since I've seen a shounen. I mean, I finished Fire Force a month ago but still! It's been way too long and I sort of miss those annoying shounen tropes and vulgar screams of the genre. They just grow on you. I might as well have a tree carved SHOUNEN sticking out of my shoulder at this point. If you have any shounen on the vaguer side of the spectrum since I've pratically hit all the mainstream ones, I'd love to know what you'd reccommend. As of now, I'm stuck in a rut of band girls, band girls and band girls.
Speaking of which…
Strikethrough means completed, Bold means there was a change in its status (progress, completion, etc) and underlined means they were the original goal.
Good Night Punpun

Mawaru Penguindrum

Bokurano

Usagi Drop

Girl's Last Tour

Bakemono No Ko

Paprika

Masturbation Master Kurosawa
Madoka Magica
Rec
Our Happy Hours
Three Days of Happiness
Annarasumanara (Webtoon)
The Enigma of Amigara Fault
Uzumaki
K-on!
K-on!!
K-on! The Movie
What are you doing at the End of the World? Are you Busy? Will you Save us?
Carole & Tuesday
Bloom Into You
Citrus
Asagao To Kase-San
Sakura Trick
Yuru Yuri
Sound Euphonium!
Sound Euphonium 2!
Jojo's Bizaare Adventure: Golden Wind
The Promised Neverland
Kaguya-Sama: Love is War
Fireworks
Nino Kuni
Is it Wrong to Pick up Girls in a Dungeon?
Okay, I may not have watched that much band girls but it feels like too much! I'm sure if we add all the females from both K-on! and Sound! Euphonium together, we'll have a pretty large dogpile…
---
K-on!! (26/26)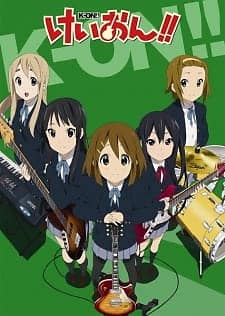 You could honestly watch this second season without context and you'll stil have a great enough time. It's basically season one. Take out one exclamation mark and you have the same first season we know and love. For deeper thoughts, you can check out my first season review with a lame title or my long-ass rant why K-on!! hits harder than K-on! and potentially why it's score on MAL is higher than it's first season. I don't mention the latter though but hey, now you know! Quaint first season, quaint second season. Overall status? Quaint. Solid 8 if you care for numerical system like I do. No review.
K-on! The Movie! (1/1)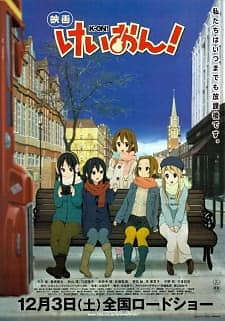 I actually suggest you watch this with a smaller amount of context than usual. Like, maybe finish half the second season or 3/4 of it. I thought this was a chronological-type movie so I went ahead and watched the OVAs and everything in a row, then went to the movies and was sorely mistaken…I think. I didn't do much research before watching. Throughout the movie, I was struggling to figure out the time frame this was taking place in. Was this after the second season's OVA? If so, why are the four already in college in the OVA? Did I mishear the dialogue yet again? If I'm right, then this can't be after the OVA because it's taking place in the events prior to surprising Azusa with a no piece of music…I was a convoluted mess all throughout. I can understand Evangelion's non-linear storyline yet I can't even figure out the timeline to this movie. Most likely all because I misheard something in the OVA. Lesson learned: Always do research. Man, oh man, I could've swore I heard something like that from my bajillions of teachers I've had.
Ahem, quaint first season. Quaint second season. Quaint movie. Overall? Quaint. No review.
Sound! Euphonium (13/13)
This one wasn't very quaint. First of all, d-r-a-m-a. There's a lot of it. It's not Stars Align drama-packed but it's pretty well stuffed but to a decent extent. All our characters are super likable including the renowned "blonde hair bitch". She's not as bitchy as she seems, okay! There's really nothing bad to say about Eupho except for the tortorously slow beginning it brought up. I'll dive into more in my review. If things go well and I don't procrastinate, it should be out Wednesday.
I'm not satisfied with ending this section like this. Reina is best girl and you cannot convince me otherwise. Ahhh, now I'm satisfied. Maybe I should write a post dedicated to her? I can't just let such a high quality waifu like this go to waste!
Sound! Euponium 2 (7/13)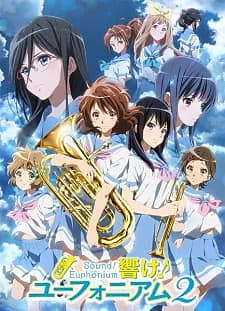 I'll be honest with you guys. I'm not liking this second season as much as the first. Unlike the first, the drama is leaning on the heavy side and it's beginning to steer the show away from it's primary focus, the journey and hardships through band. We're too heavy on the melodrama. Thankfully, the exhuasting melodrama streak ended an episode ago and we're starting to get back into the groove of frustrating band. I have a feeling we'll be greeted with more melodrama sooner or later though…Asuka seems up to something and I don't like it. Depending how negative/positive Eupho's second season concludes, I may or may not include it in the review.
Is it Wrong to Pick up Girls in a Dungeon? (13/13)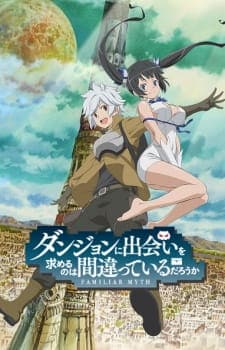 Ah, yes. The question I've been wondering since I was a child and sadly, we're not given an answer in this first season. Wow, this brings me to tears. This outrageously long title or, as I like to say and hear, DanMachi is a sturdy show yet, a lackluster one. It creates a solid foundation for itself and builds from there with it's Hestia-Bell character dynamic and touching mini-character arcs but other than that, nothing makes DanMachi a special series. Yes, it has anime bewbs. That's a huge plus. Yes, Bell is not an over-powered Kirito-kun and he does have an existing flaw forecefully and constantly pushing him forward. The flaw's consequence pays off decently and only decently. DanMachi's word isn't filled with mystique, it's characters don't have me on the edge of my seat and to be honest, Bell could die tommorow and I wouldn't care. It'd be a waste of such a well-built up charater but would I genuinely care for his existence and the weight of his death? Unfortunately, no. Nothing ties this series to me and although it may be objectively decent, ultimately, my and DanMachi's relationship is the equivalent to this:
---
So far, my watching progress has been my best in all my years of watching anime (It's been five but still!). We have two more weeks till the last one and so far, I've read and watched 23 in total. Well damn Inskidee. Got nothing better to do with your time I see! I'm still deciding on what to do for the finale…maybe I'll rank all of them? That'd be a lot of work. Eh, I'll challenge myself! Let's see what I'll come up with…Yikes, I'm already scared of the terror my mind potentially holds…As always, thanks for reading!