---
Clocking in at only 32 minutes, She and Her Cat manages to easily accomplish feats some anime of 24 episodes can only dream of: Riling up emotion within an audience or in other words, me. Just me. I can't speak for you. But me? I was riled up very much. I'd reckon I was crying through maybe a fourth of those 32 minutes.
Knowing my stone-faced self, I really should be looking at this show with an apathetic eye. I've never been one to cry easily nor easily attach myself to characters like 1-2-3. Well, that contradicts my last paragraph rather drastically but whatevs! Anime confuses me emotions. Anywho, She and Her Cat should be nothing less of a slight gust of poignance for me. In She and Her Cat's 32 minutes, we experience a flowery assortment of sweet and sour moments between Miyu and her cat—Daru—as Miyu struggles to adjust to society. Yep, that's it. There's no bombastic conflict, there's no thrilling twist guranteed to shimmy your shoes off—it's just Miyu and her cat. Yet, with whatever voodoo Makoto Shinkai has mastered in the shadow realm, Shinkai manages to make She and Her Cat feel more than that.
As a pet owner, I found it easy to immerse myself in Miyu and Daru's heartfelt and bittersweet journeys of bliss and sorrow. Seeing Daru grant Miyu happiness with the most subtlest of acts or even hearing Daru voice his strangely poetic thoughts (I envy) into a culmination of warm "meows" was—how to put it—endearing. It was endearing and weirdly, relatable.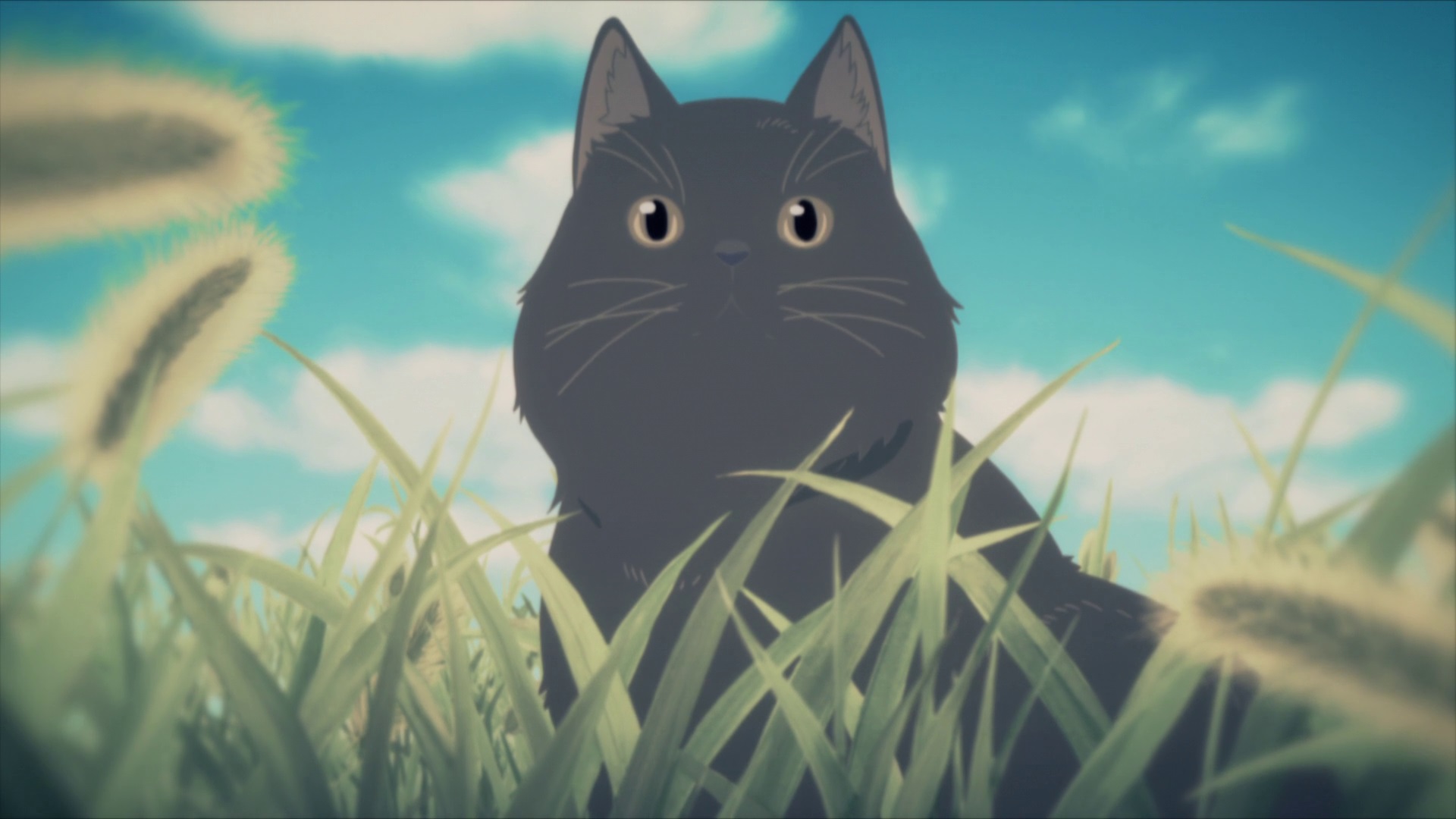 Witnessing Daru soothe the rampant chaos of Miyu's life with only his comforting presence was something I could get behind, given I've too shared those moments with my cat. Ultimately, when Daru's death inevitably pranced through She and Her Cat's entrance way, I don't think the result of it could've been conveyed better. Her despaired after Daru's passing however, even in death, Daru didn't cease in helping Miyu and thus, with his death, he gave her that tiny but meaningful push she needed to enter society. Through Daru's death, Miyu realized tragedy and pain will come no matter where she hides. You got to have that courage and endurance to trudge past it and continue living. That phrase really is much easier said than done though, isn't it? Thankfully, it's very well-done in this small moment of She and Her Cat. Even in death, Daru and Miyu do not part. Aww, Daru and Miyu's relationship is just so hnnggggg! Cute!
If I had to criticize one thing, I'd wish that Daru never reincarnated. I felt that kinda tore away from the bittersweet atmosphere and broke the subtle "moving on" message. Yet, at the same time, it strengthened the more overarching theme of Daru and Miyu thick-as-skin companionship. Despite knowing that, I'm still slightly bummed, but in the grand perspective of things, that little indifference isn't gonna make me dislike this show in one bit.
If I ever meet a passionate pet owner searching for anime reccommendations (though I doubt the likelihood), I'm sure the first anime I'll reccommend is this. Without the relatability of owning a pet when I watched She and Her Cat, I doubt this show would've been as meaningful and touching as it was to me. Without that lingering relatability, She and Her Cat is just bundle of Makoto Shinkai bittersweetness. I doubt I'd have these empathetic moments and sob fits if I couldn't relate to the pain and happiness of owning a pet.