I was looking at my many poorly-written drafts on WordPress and saw that I was supposed to release this post two months ago and I had written so many paragraphs on one topic like wth Inskidee. So, here's an entirely revamped version of that and hopefully it's much better than that extra-ass draft.
---
I remember watching this anime fairly recently only because of it's genre: Supernatural. If I find an anime I really like, I go into a phase of only looking for anime of that genre for a while so I don't get the infamous "anime depression." Before I watched Bungou, I had finished the Fate/Zero (which I absolutely loved) so following my pattern, Bungou Stray Dogs was the next on my list in terms of the Supernatural genre.
And here's an unpopular opinion but I actually disliked both the first and second season.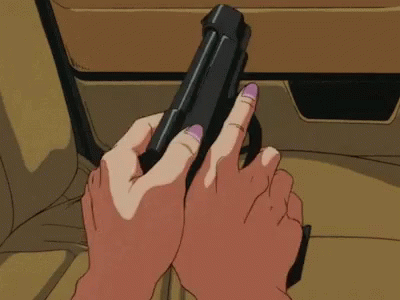 Wait! Let's be rational about this!
Let's kick things off with the first season. We follow the orphan boy, Atsuhi, who was kicked out of his orphanage. He casually meets a suicidal Dazai who drags Atsuhi into his world of solving crimes only everyone in his crime firm has a supernatural power (tada!) and as you guessed it, Atsuhi has one also which is his ability to turn into a mythical tiger.
The first episode was incredibly reeling. It was a well-made exposition whilst also keeping the audience interested with the smaller "shounen" type aspects like the mystery of who the mythical tiger was and small smigens of action. The first episode was well set-up and was a great start to the series!
guess what? I couldn't find any relevant pictures so this post is gonna be all best boy Chuuya gifs! Hurray!
And that was the only good part about the first season… The rest after that extraordinary first episode was quite disappointing. I think the main let down for me was the Comedy. I'm fine with a little bit of comedy here and there in shounens but I found the comedy in this show horrid. Most jokes had inappropiate timing and didn't at all feel right in the situation for example, a serious dialogue is going on key to the narrative until all of a sudden the anime pops in some gag ruining the setting and mood. There are right times for comedy and there aren't and Bungou Stray Dogs fell straight down a hole for it's comedic timing.
Otherwise, the comedy is basic for a shounen with the only downside being the horrid comedic timing which is why watching events unfold was cringey and kind of annoying as there was always a familiar gag every few minutes. I'm normally not one to look at a comedy in shounen anime but this one puts a negative impact on the characters and story. Bungou Stray Dogs just sucks when it comes to comedy.
Yes, you tell him off baby
Characters were also quite basic for a shounen. Demon Slayer and Fire Force both have the typical shounen characters we are all used to but what seperates it from the medium is how heartfelt they can be when they want to. Both are good at controlling the viewer's emotions to where the unoriginality is irrelevant.
Bungou Stray Dogs however cannot do this. Never once in the show was there a scene that struck my heart or felt genuinely heartfelt. Some characters were interesting, most were dull, and most were downright unmemorable which is a key factor as to why this anime doesn't feel as heartfelt as it could've been.
Now, not all about this first season is negative. I found myself falling in love with some of the characters such as Dazai and Chuuya (the cute beans) but not only were they likeable, they had a mysterious aura surrounding them which makes them some of the better characters. Although Atsuhi goes through an amount of character development, his character never struck any chords or felt like something other than a typical shounen protagonist. His character development consists of going from a lil' whiny bit*h who's always in conflict with himself to a slightly less whiny bit*ch with a dash of courage. Granted, Atsuhi's problems are a little more detailed than a casual shounen protagonist's intrapersonal problems but in the end, Atsuhi's character never feels like something special as Tanjiro (Demon Slayer) and Bakugou (MHA) do which are both characters from a typical shounen plot done correctly to make them intriguing and fun to watch grow.
KYAAAAAA
The fight scenes were also entertaining. Although we lack interesting characters, Bones manages to make fight scenes interesting with it's great animation and various superpowers displayed but then again, it's Bones, Bones is always good.
---
And um…yeah. That's the only positive stuff I have to say for this first season. This feels more like a bashing session than a review >.>
The second season didn't vary much from the first season. Dazai's mysterious past is revealed which can normally be bad for a shounen anime but this anime executes it solidly and fluidly and before we know it, we've uncovered every nook and cranny of Dazai within a few episodes and even get to see some development and depth on his part without it flowing unnaturally or feeling boring!
This season is when Atsuhi goes through a bit more development along with his antagonist, Akutagawa which is…cute. Kyouka is given a bit more MEaT and a handful of characters are given more depth in the second season. You could say this second season was a decent clean up from the first season.
The Second Season is definitely a step up from the first however, some fatal flaws from the first are still present like the terrible comedic timing and large quantity of basic characters even if some characters were given depth (BSD likes to do something good and then cancel it out with something bad) But hey, best boy Chuuya is in this second season which I suppose is a big plus!
OH MY GOSH YES, YES, YE-*DIES*
So, what are my thoughts? Both S1 and S2 have their small positive points about them but overrall, the anime is more negative than positive. Comedic timing brings it down by much, sterotypical and dull characters take you out of the experience, and it lacks the heart that most typical shounens are saved by. Fight scenes are clean and the plot has variety to it rather than just being "Let's go after the Mafia" day in and day out and characters are slowly being built upon. Although the second season was a huge step-up from the first season, i'm not exactly intrigued to watch the third season anytime soon. This anime has well secluded it's place as the typical shounen we are all used too
(Quick Note: If the third season is also an even large step-up from the second season, i'd love to hear your thoughts on it whether they contradict mine entirely or not!)
Overall Rating: 7.5
Thanks for reading! I tried to balance out the positives and negatives because even if this show was flat, I still enjoyed watching it for those solid 24 episodes. I didn't want it to seem like I hated the show with a fiery passion. I'm still trial and erroring my blog after two months sniff.